Last edited by momo on 2023-3-31 14:58 Editor
Windows11 ARM IS FINALLY HERE!
Without further ado, let's get straight to the steps.
Step 1: Flash UEFI boot and download UEFI image
Prepare a TF card (16MB or above), only used for booting.
Use any tool, such as rkdevtool/etcher/dd, to flash image to the TF card.
Use the flashing tool to connect the machine > enter M mode > load MiniLoaderAll.bin > switch to emmc storage > clear the internal emmc > insert the TF card > start UEFI.
*** Many hardware cannot function normally, but it doesn't affect my experience of this ARM win11.
P.S.
1. Make sure to use the 8K port when you use HDMI.
2. USB 3.0 works, but it does not come with power supply. So if you want to use it, you need to connect a hub with external power.
3. Other hardware interfaces have not been tested, so assume they cannot be used for now.
Step 2: Deploy Windows
The ARM version of Windows can be downloaded from UUP dump.
After downloading, prepare a USB 3.0 external hard drive or flash drive and plug it into your computer.
This tool is similar to installing Windows using a computer PE. Even though it's for a Raspberry Pi, it still works.
First, select the storage driver, then choose a device type whatever you like.
You can choose the ISO or WIM file for the image. This time, I only kept the Pro version.
It will download files from the internet. Now you can start install.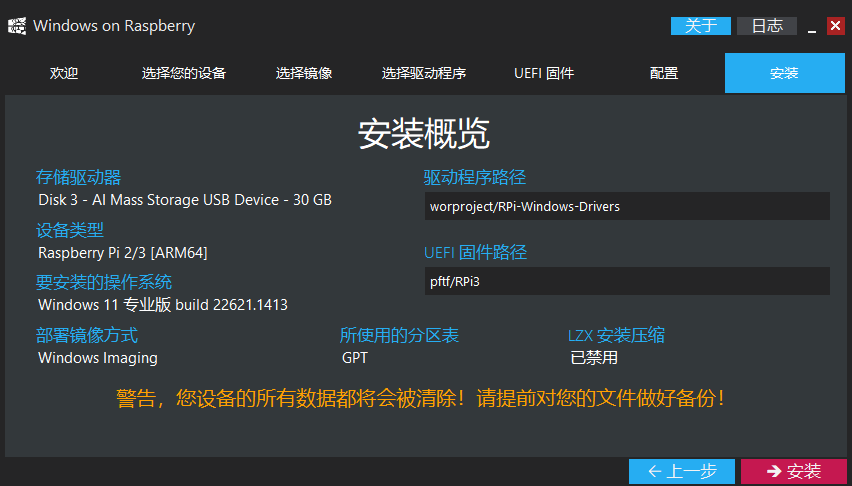 After installation, you can plug it into a hub with external power > power on > start install Windows.
Since other hardware components may not work, connect the mouse and keyboard to the hub. If you need to use the network, connect the USB network card to the hub.
The file and tool package is here:
password: pypy