Last edited by Station Repost on 2022-6-11 15:51 Editor
ARM-based open-source computers, which often come in the form of SBCs (Single Board Computers), are designed for tech geeks rather than average consumers. However, the Firefly Station P2, which employs the form factor of a mini PC, doesn't seem all that out of reach. With a Rockchip RK3568 quad-core processor, 2 Ethernet jacks, WiFi6, plenty of storage extension options, and the ability to boot several operating systems, it can be just as fun for ordinary people as it is for tech enthusiasts.
Main Specs
Operating System: Android 11 / Ubuntu / Android TV / OpenWRT / LEDE
Processor: Rockchip RK3568
GPU: Arm Mali-G52MP2
RAM: 2/4/8GB LPDDR4
Internal Storage: 32/64/128GB eMMc
Storage Expansion: 1x 2.5'' HDD/SSD, 1x m.2 2232 SSD, 1x MicroSD card.
HDMI: HDMI 2.0 Output up to 3840*2160px@60fps
Bluetooth: Bluetooth 5.0
Internet Access: WiFi 6, 2x Gigabit Ethernet
Ports: Gigabyte Ethernet*2, DC-in*1, Control*1, MicroSD card slot*1, USB-A 3.0 port*1, USB-A 2.0*2, HDMI 2.0*1, 3.5mm Audio*1.
Dimension: 142*89*31.5mm
Power Supply: 12V DC/2A
Weight: 450g
Chassis: black, aluminum
Retail Package: mini PC*1, remote*1, HDMI cable*1, power adapter*1, user manual*1, USB A-C cable*1, 2.5'' HDD/SDD lid *1, Screw driver*3.
Packaging and accessories
The Firefly Station P2 comes with very simple retail packaging, there's nothing much on the white box besides the branding, the model name and some specs. Inside the box you will find a Station P2 mini PC, two WiFi Antennas, a remote, a 12V-2A power adapter, a USB A-C cable, a tool kit, an HDMI cable as well as a user manual.
Design and build
The Station P2 mini PC employs an aluminum alloy chassis measuring 142 mm x 89 mm x 31.5 mm, so it has a footprint smaller than most mainstream smartphones. The high-precision CNC machining and matte black finish give the machine a rather premium look. Because the Station P2 doesn't come with an active cooling fan under the hood, it relies on the toothed top panel and various ports for passive heat dissipation.
The front panel plays host to a Gigabyte Ethernet jack, a USB-C port (OTG Only), 3 USB-A ports (2x USB2.0, 1x USB3.0),a 3.5mm audio jack (with mic support), a MicroSD card slot and a power button. The rear side hosts two more Ethernet jacks, an HDMI 2.0, a DC-in. There is also an opening for users to insert a 2.5-inch SATA HDD/SSD, but you will need to unscrew and remove the lid first.
The connectivity doesn't just stop here. With the included screwdriver, you can get easy access to the internals of the mini PC. Besides the 2.5-inch hard-drive tray, you will also get a M.2 2242 PCle SSD slot.
But if you only want to add a 2.5-inch hard drive to the Station P2, it will take you even less effort. After removing two screws on the back side, a metal lid will fall off, and then you can insert the hard drive.
The Station P2 comes with 32GB/64GB/128GB eMMc onboard storage. With two SSDs and a MicroSD card, you can install as many as 4 operating systems on the mini PC, and that could be "dream come true" for any tech geek.
The build quality of the Firefly Station P2 is extremely nice. The metal chassis feels perfectly robust and won't flex even under a lot of pressure. Also, everything on the motherboard is neatly arranged.
Station OS
The Station PC runs Station OS out of the box. Being called an OS, it is in fact a TV box skin on top of Android 11. The Station OS skin is clearly built around media playback. The UI is simple and easy to navigate with the included remote or the Station Control app on an Android phone.
The Movie Library App, which has a widget on the UI's homescreen, will automatically detect all the videos in the chosen directory and find matching covers, posters, and information for them. I think everyone will grow to love this feature, because when you are navigating through your collection of movies and TV shows, you are not just looking at the titles, there is a lot more information to help you decide which one you are going to watch.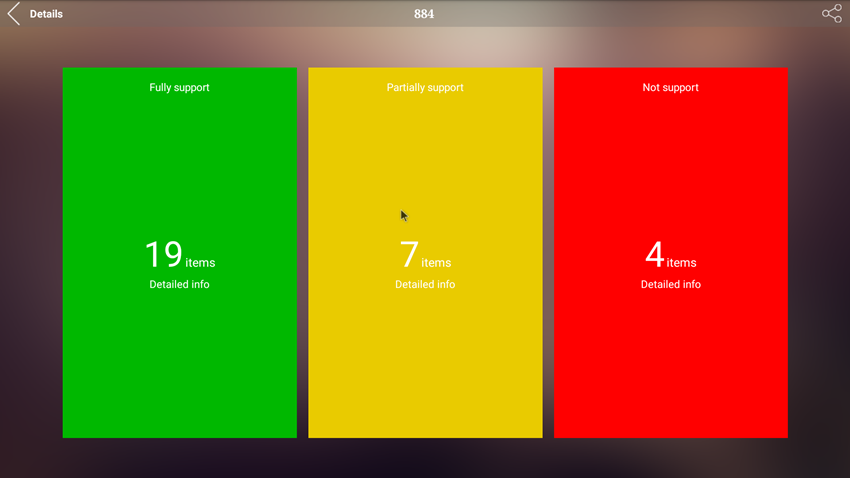 The Station P2 scored 889 in the Antutu Video Tester benchmark. Making it a solid, better than average TV box for media consumption.
There are only a limited number of pre-installed applications. Since this is Android, you can also install any app you want on the Station P2, including apps designed for TV, tablets, and smartphones. Some phone apps, such as Facebook and Instagram, don't have support for landscape mode, and that can be tricky if your display isn't rotatable. Fortunately, Station OS allows you to activate "ForceLand" in the settings, which will force the app to show vertically in the middle of a screen, making it easier for you to use the app with a mouse and keyboard.
Station OS might not be the right answer for people who want to use the Station P2 as a mini PC. It is nowhere near the experiences you can have with desktop UIs which allow you to run apps in resizable windows, such as Remix OS, Phoenix OS and Samsung's Dex Mode UI. Also, there is no navigation bar for you to quickly switch between apps. Fortunately, Firefly has made stock Android 11 OS firmware available for those who want to use the Station P2 as an Android PC.
Other Software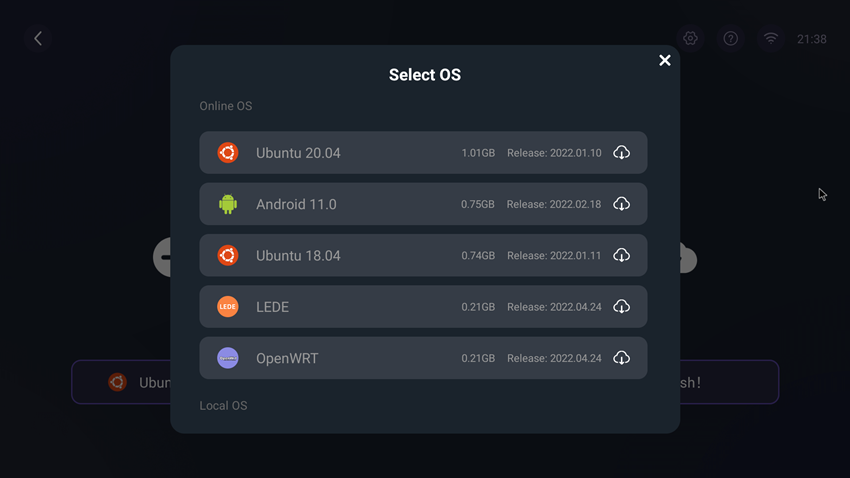 However, you are probably not buying the Station P2 as a TV box or an Android PC, as there are lots of cheaper alternatives out there. What makes this mini PC special is its capability of booting multiple operating systems, and Station OS gives you a portal to do that. Yes, I am talking about the OS Assistant App, which makes installing operating systems as simple as eating a piece of cake. Firefly offers six operating systems tailor-made for the Station P2 right now, including Ubuntu 20.04, Ubuntu 18.04, LEDE, OpenWRT and the aforementioned Android 11. Just choose the OS you intend to install, and the drive you want it installed on, and you are good to go. The Operating system will be automatically downloaded from Firefly's server and then installed on your local hard drive. When you have multiple operating systems installed on your Station P2, a boot screen will show up every time you power up the mini PC, from which you can choose the OS to boot into.
I have Ubuntu 20.04 installed on a 2.5-inch hard drive, and OPenWRT installed on a TF card. So the Firefly Station P2 can serve as my TV box, my desktop computer, or my router, depending on the OS I choose to boot into.
Ubuntu is a very much liked operating system for tech geeks, and a welcomed addition for average users. But unfortunately, the Rockchip RK3568 quad-core CPU is by no means a powerhouse, scores in Geekbench 5.4.4 told the story.
Also, Ubuntu for ARM has very limited number of apps available. As a result, most people won't be able to use the Station P2 as their main computer, unless you care very little about efficiency.
With that said, if you want to handle some of the basics, you can. And if you are using the Station P2 to learn about Ubuntu and Linux, and some of the codings, it does provide you with an opportunity here.
The Station P2 also comes with superb networking capabilities. With two Gigabyte Ethernet jacks, and WiFi6, it is an ideal device for soft routing as well as streaming PC games. If you are new to these ideas, there are lots of tutorials online to help you set things up.
I streamed my favorite game "Fortnite", and enjoyed fairly smooth gameplay, with only a few hiccups in my one-hour session.
Verdict​
With rich interfaces, great expansibility, and superb networking, the Firefly Station P2 is surely an interesting device with a ton potential. Besides a decent collection of official firmware based on different operating systems, you can also find many other third-party firmware in Firefly's forum, giving you more ways to play with this mini PC.
Some potentials of the Station P2 can be limited by the performance of the relatively old Rockchip RK3568 processor, and some features in Firefly's very own software may feel a little bit undercooked. But with a sensible price tag that starts from $189 (2+32GB), and a fast-growing Firefly community, the Station P2 is still one of the best open-source computers you can buy right now.
*Original author: Jupit3r
Learn more: https://forum.xda-developers.com/t/firefly-station-p2-hands-on-an-open-source-mini-pc-with-great-versatility.4454515/