HDMI CEC
Senior member
Off-Topic
2022-03-23 11:40
834
0
1
HDMI-CEC CONFIGURATION
With this method we can use our TV remote, TV-Box, AV receiver or other compatible peripheral to control the general management of the devices. Naturally, the specific keys of each command are not controlled, only the general keys such as volume or channel change.
Configure HDMI-CEC mode on your TV
Unfortunately, each brand configures HDMI-CEC differently and compatibility may vary.
Sony = Settings> External inputs> Bravia Sync> Activate.
LG = Settings> General> Simplink> Activate.
Samsung = Settings> External device management> Anynet +> Activate.
Restart the TV to apply the changes completely.


Other names of HDMI-CEC, the menus can usually be found in the video settings.

Himno, Denon, Vizio : Control CEC, CEC or HDMI
Denon: Control CEC o HDMI
Funai, Emerson, Magnavox, Sylvania, Philips: Fun-Link
Pioneer: Kuro Link
Sharp: Aquos Link
Hitachi: HDMI-CEC
Insignia: InLink
Onkyo: RIHD
Panasonic: Control HDAVI, EZ-Sync or Viera Link
Philips: EasyLink
Toshiba: Regza Link, CE-Link
Mitsubishi: NetCommand

Configure HDMI-CEC on our connected device
In Android TV-Box we usually have a menu to activate this option and configure different control options, we will have to try different combinations until they fit with our TV.
Android TV-Box: Settings> HDMI> Enable HDMI-CEC.
mini PC: Only some graphics cards are ready, there is also specific hardware and usually few options.
AV receiver: It is necessary to activate HDMI-CEC to control the volume and it is recommended to use HDMI-ARC connection.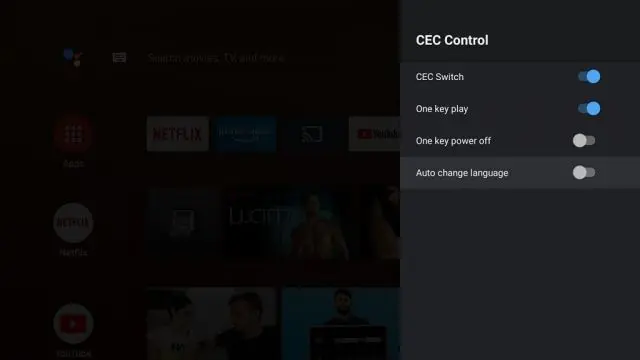 On Station M1, P1, M2, P2 AndroidTV firmwares, HDMI CEC is enabled by default.
You only have to enable it in your tv's settings then you can use your tv remote to control the device or your AVR receiver's remote to control the volume.




Original topic  Author:lonewolf31,If you repost, please indicate the source:《 HDMI CEC 》